Every year more than 90% of businesses invest in social media marketing, especially TikTok digital marketing. TikTok has been named as of the fastest-growing platforms of all time for the very right reasons.
TikTok is a massive user base social media platform to promote a brand and gain more customers. Now, what makes TikTok a great choice for your brand's digital marketing campaign? Read on to discover the wonders of TikTok digital marketing and how it affects your business. 
Who uses TikTok?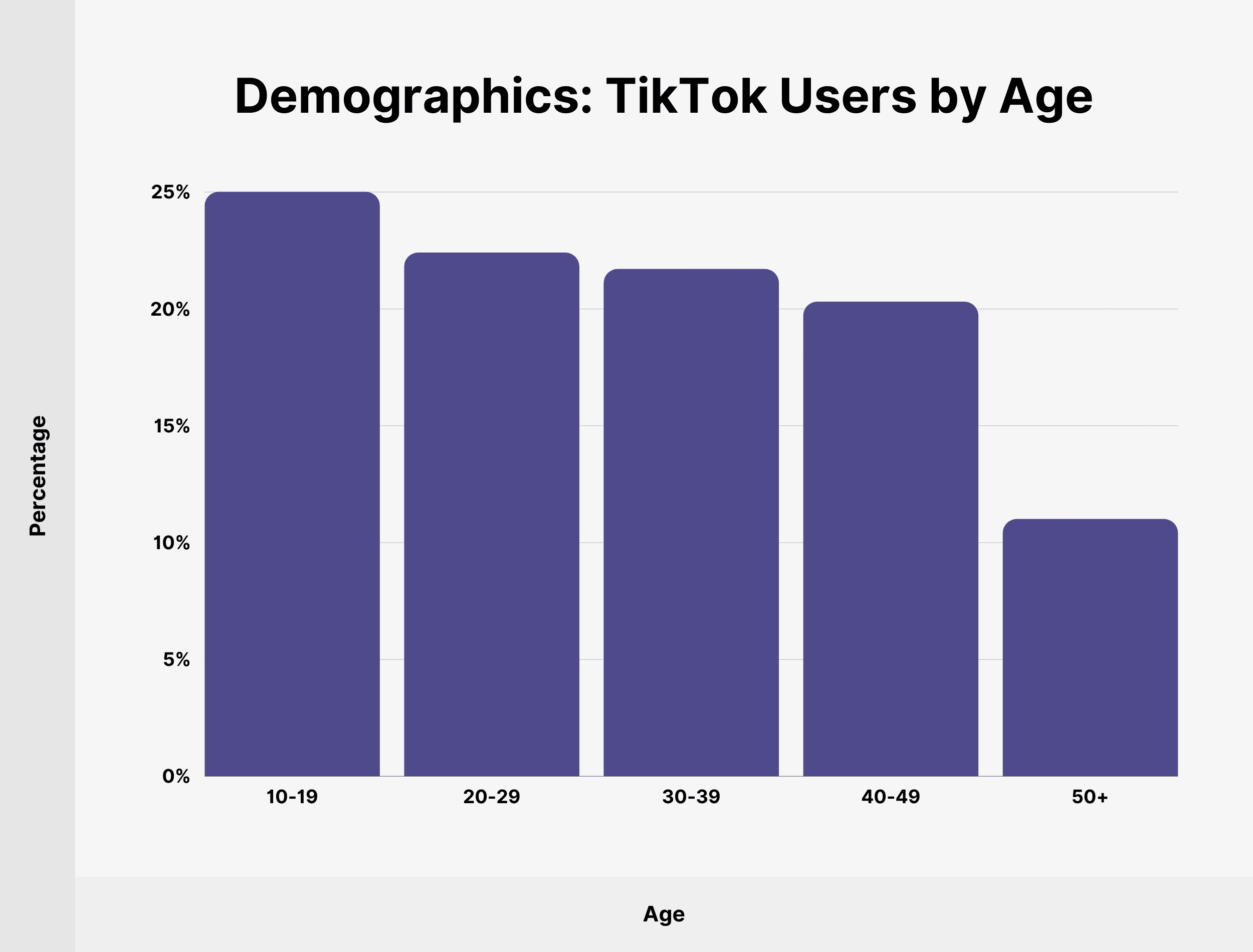 While TikTok has a varied age group, it is most popular among Gen Z and millennials. However, you can also find many cool grandmas taking over the latest TikTok challenges like a pro!
Many businesses also advertise their brand using engaging content, gain followers and turn those followers into customers. You can even find established brands like Nike, Fenty Beauty, Pepsi, Calvin Klein, Sony, and others advertise and launch influencer marketing campaigns on TikTok, and the engagement is insane!
It is also popular among influencers and celebrities such as Snoop Dogg, Dua Lipa, etc., who have gained a great following on TikTok since the pandemic. TikTok is an entertainment platform that allows everybody to have fun and share their lives!
Some of the brands that received incredible recognition on TikTok are:
Chipotle
Chipotle's GuacDance challenge, which encouraged guacamole fans to flaunt their moves, received a whopping 250,000 video submissions and over 430 million videos within just six days. This challenge proved to bring the maximum guacamole sales on National Avocado Day.
The example above is one of the most viral videos by Josh Sadowski that got 892K likes on TikTok!
BBC
British Broadcaster Corporation (BBC) uses TikTok to engage with audiences, mainly teenagers and university students, and share insights on different exam and revision strategies. New ideas and tips are shared regularly, contributing to their massive following on TikTok.
Duolingo
Duolingo currently has over 1.4 million followers and all thanks to their interactive videos featuring a bird doing hilarious things. They are regularly posting more trends on Duolingo TikTok that keep users hooked on learning new languages while having fun simultaneously.
See one of their videos above! It's hilarious, right?!
How does TikTok Work?
Tiktok users can view videos from their feeds, mostly driven by the algorithm and hashtags. The algorithm works on different factors such as your demographic and psychographic details like country, language, user interactions, and more. The For You page on Tiktok allows you to discover new content and users to follow. 
Within the For You page, you get the most interesting and highly engaging videos loved by other audiences. Gaining popularity on TikTok is fairly easy with using the right hashtags and engaging content creation. This is why you can mostly find the latest challenges, pranks, and dance routines on your For You page, 
How can Marketers Use TikTok?
Tiktok offers a fantastic opportunity for marketers to advertise their brand to a broad range of audiences across the globe. It is not a traditional advertising strategy that is usually professional. Marketers can target the audiences in a fun, creative, and playful manner that can be attractive to the audiences and prove profitable to the business.
Starting from social media memes to the latest TikTok challenges. Businesses can use different tactics on TikTok to be at the forefront of their audiences and turn them into loyal customers. 
It helps to boost brand awareness and creates a stronger social presence within the audiences, all under a single budget. Yes. Advertising on TikTok will not burn a hole in your pocket. The TikTok advertising facilities are usually at the most affordable rates, allowing marketers to advertise on the platform without any restrictions. 
This viral nature of TikTok, which is way ahead of other social media platforms, makes it one of the most lucrative opportunities to attract consumers with attractive content. A carefully planned TikTok marketing strategy is all it takes to make it big on TikTok and gain more followers. 
How does TikTok Digital Marketing Affect Business Growth?
The latest updates on TikTok offers marketers a broad range of advertising opportunities on the platform. Let's quickly check out some of the most common TikTok digital marketing impacts on business growth.
Ecommerce Capabilities
TikTok offers a robust suite of full-funnel facilities. Last year, TikTok partnered with Shopify to launch their latest advertising features across 15 counties. This new functionality allows Shopify merchants to access Tiktok for Business Ads Manager right from the Shopify dashboard.
This allows eCommerce businesses to reach out to prospective customers early in the buyer journey through the application and contribute towards making a solid impact on the final purchasing decision. 
Shopify merchants can now plan TikTok campaigns to target the right TikTok audiences and track the campaign results under a single platform. They can also access many powerful creative tools that help Shopify merchants create interactive content and target the audience without investing in other tools or software. This is an added bonus for small eCommerce businesses. 
Shopify merchants can even link their Tik Tok Pixel with a single click to modify their conversion tracking metrics. This will help get a better insight into the business's engagement rates and final conversion rates. It also allows Shopify merchants to retarget the audiences more accurately as they leverage customer data and interactivity. 
When leveraged strategically, it can prove to be immensely beneficial to businesses in reaching prospective customers at the right time. 
Brand Effects
There are plenty of businesses trying to advertise on TikTok using TikTok ads. To make your TikTok ads stand out from the noise, layer the Brand Effects on your ads. It offers an AR feature to your videos which is quite similar to the lenses on Snapchat. See the example below of Danya Milokhin's TikTok video to see what Brand Effects look like.
@danya_milokhin

Кто тут самый-самый? 🔥 Покажи свой стиль в челлендже KIA встилеRIO!
It is mostly used to highlight the brand's USP and specific elements that need the most attention from the viewers. 
This feature can be extremely advantageous for every business that wants to make its CTA more prominent and maximize conversions. It also makes your video ads more interactive and share-worthy, contributing to your engagement rates. 
In-Feed Ads
Tiktok Ads are quite similar to any other paid ads on other social media platforms. There are different types of TikTok ads available for marketers right now, but In-feed ads have the most popularity and higher chances of increasing your conversions. 
TikTok's in-feed ads are similar to the ads you see between Instagram stories. Whenever a user is flipping through their feeds across different videos, your ads will show up within their scroll. 
The best part about in-feed ads is that it looks quite similar to regular videos. This ensures that you are not being too sales or pushing your viewers too hard to buy your products. It makes their entire user experience more lucid and streamlined and also does the job of advertising your business pretty well!
You can easily customize your infeed ads with different layouts, effects, and motion graphics to make them more eye-catching. Ensure to add a compelling and prominent CTA to guide users on the next step to purchase from your business. This way, you can leverage TikTok's in-feed ads as the most efficient way to increase your conversions.
Hashtag Challenges
Did you know hashtags contribute to the maximum engagement rates in TikTok challenges? A TikTok hashtag challenge can be the ultimate game-changer for your marketing venture if carried out strategically. See one of the examples below of #PlayWithPringles hashtag challenges that got 4.8B views! 
Some efficient ways you can create a good hashtag challenge for your business include:
Keep your hashtags product-focused. If you observe the hashtags used by Nike or other brands, they usually either include their brand name or the series of the product they are promoting. If the purpose of your hashtag challenge is to maximize the reach of our product, you need to include the name of your products in the hashtags. However, avoid being too salesy. Tap into your creativity and find out a good hashtag that promotes your product in a fun manner.

Avoid using too tech-savvy abbreviations as these may not be well perceived by your audiences. You need to create hashtags that are easy to remember and pronounce. 

Avoid using date or month references in your hashtags, as they can go outdated quickly. You don't really want to groove on a hashtag challenge in December, which is dated as may, right? Don't set any timelines on your hashtags. This way, your hashtag challenge will be trending for a longer time. 

 Your TikTok hashtags challenge is not just limited to TikTok. To make the most out of it, don't forget to share it on other platforms. This will increase the engagement rates of your challenge significantly. 

Partner with popular influencers in your community and ask them to share your hashtag on your profile. This way, you can also involve their audiences in your hashtag challenge!
Conclusion
Irrespective of your industry, TikTok is one such platform that can be used to promote any services and products. If your content is share-worthy and your products are worth the hype, you can gradually witness a growth in your follower count. The key is to consistently share content, keep it focused on your brand and engage with your followers. After you reach a certain follower count and engagement rate, you can take the next step in your TikTok digital marketing journey and look out for the Tiktok verified badge, as this will hit another milestone of brand engagement and awareness on TikTok.