TikTok's edgy vibe has taken by storm the social media landscape and won over the digital natives of Gen Z and Millennials in a heartbeat. Seeing its increasing popularity, more and more brands seem up to the challenge of experimenting with new waters and start creating a presence on TikTok. And so we wonder, where is TikTok marketing headed? What are those TikTok trends that marketers should not ignore in 2022?
Let's find out!
TikTok Trends That Marketers Should Not Ignore in 2022
Let's read through these trends to understand the value TikTok has in the marketing world.
1. TikTok's Expansion with New Features
If you didn't have the chance to play with TikTok so far, you should know, the platform offers endless possibilities to show off your creative side.
You can get inspiration from existing content into the platform and turn it into a new one with a twist.
With the fun and innovative features of the platform, when it comes to creativity, the sky's the limit.
One of the hottest TikTok trends you can see by scrolling a bit in your TikTok feed will be Stitch and TikTok duets.
Now, there's no need to get scared if you didn't hear these names before. But you may be surprised to discover you already know these new forms of video content.
Chances are pretty high for one or two of them to pop up in your TikTok feed when you next open the app.
Created in the classical TikTok trademark, they are pretty easy to recognize.
The TikTok Stitch is a feature that allows users to take a short snippet of other people's videos and incorporate it into their TikTok videos.
Of course, TikTok's Stitch feature doesn't randomly select videos other users can integrate into their content.
The Stitch feature can be turned on and off and switched either way for each video uploaded. It is one smart way TikTok has developed to help users gain more exposure.
"Stitch is a way to reinterpret and add to another user's content, building on their stories.
Every video made with Stitch attributes the original creator in the new video's caption, and the caption attribution links directly to the original, clipped video." – TikTok Company
TikTok Duets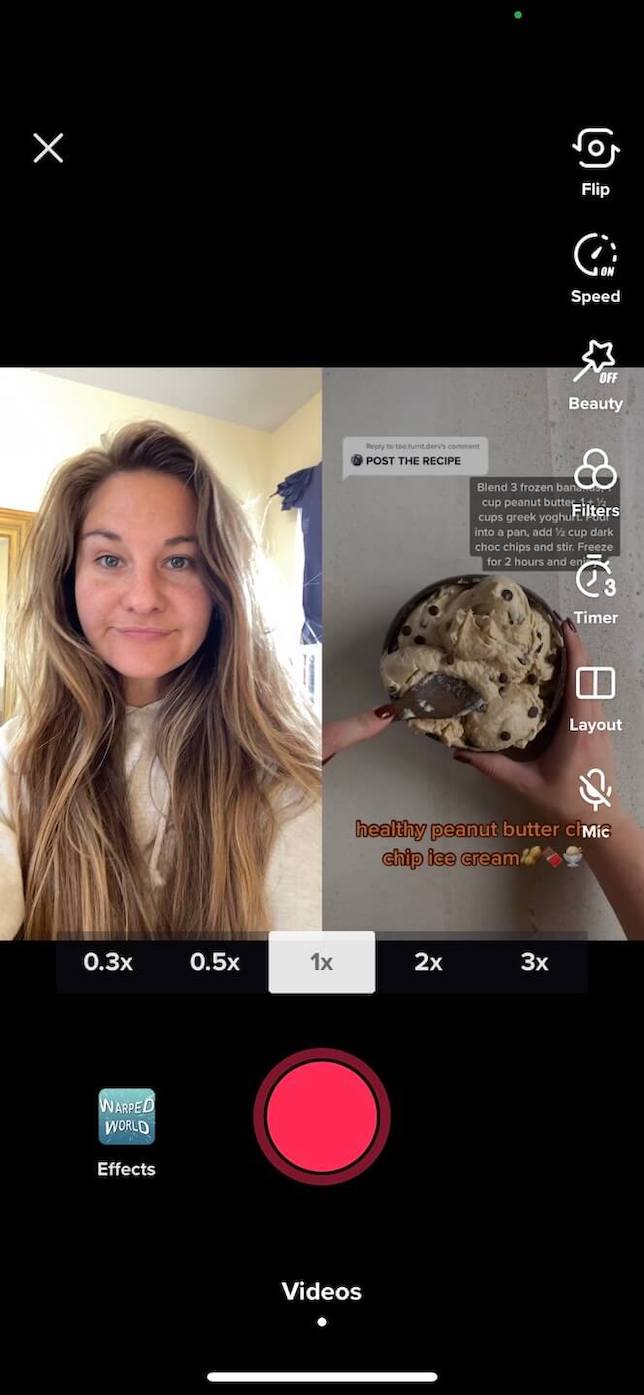 TikTok duets, on the other hand – although similar – are not quite the same.
This tool also allows you to use other people's TikTok videos but in a different format. In a TikTok duet, you can place your own video alongside the original one, while both play at the same time.
Using this split-screen format, it looks like people can reply to a TikTok video with their own content – which they can share on their own TikTok profile.
"Duets allow the creation of new and unique content in collaboration with creators across the platform.
New layouts open doors to all kinds of creativity. Whether side-by-side or up-down, users can find new ways to interact with videos and reinvent existing content from across TikTok." – TikTok Company
Having covered all the informational aspects related to these new TikTok features, it's time to see why they are placed among the upcoming hot TikTok trends for 2022.
Let's see…did you know that 43% of engaged TikTok users have uploaded a "Duet" video so far?
Did you expect that?
As you can imagine, TikTok features like Stitch and Duets are among the most popular TikTok trends thanks to their capacity to increase the brand awareness of a business to extraordinary levels.
Every video created in a challenge passes on authority to the initial creator, which can mean massive exposure.
And of course, brand awareness is not the only benefit brands can get from aligning to the latest TikTok trends and starting experimenting with these features.
TikTok Stitch
Reach and engagement are also two main objectives social media managers usually struggle to achieve.
Therefore, jumping on board and making good use of these viral TikTok trends may be the golden ticket for some businesses in 2022.
2. Increase in Live Sessions
Video content is the future of social media marketing. There's no doubt about it.
And not only have regular videos become massively popular nowadays but live videos have as well.
According to our Facebook videos study, the consumption of live video content has doubled over the last year, which has happened probably across all the social media platforms that facilitate video content.
TikTok has also highlighted the importance of live-stream sessions to keep users engaged on social networks. By first introducing the "Live" feature and button in the platform itself. And coming up with many new and inventive ways of using live videos by the platform's creators.
This is a display of where the TikTok live feature is placed inside the platform.
To emphasize the latest TikTok video trends, it's also important to mention the company itself has stated that "the number of people going live and the number of people watching live videos had doubled over the last year," according to TechCrunch.
After seeing the many changes and plans for the future the platform has prepared, it's safe to say that TikTok is not afraid to experiment.
Judging by the current TikTok trends, one can say the platform has taken video content to a whole new level.
Getting inspiration from the breakthroughs all the other social media platforms have had in the past and all the innovative features they released, TikTok seems to be determined to gather them all under one roof.
Here is the announcement tiktok posted on Twitter about introducing new live features that are likely to become the hottest TikTok trends.
The Importance of TikTok Live Events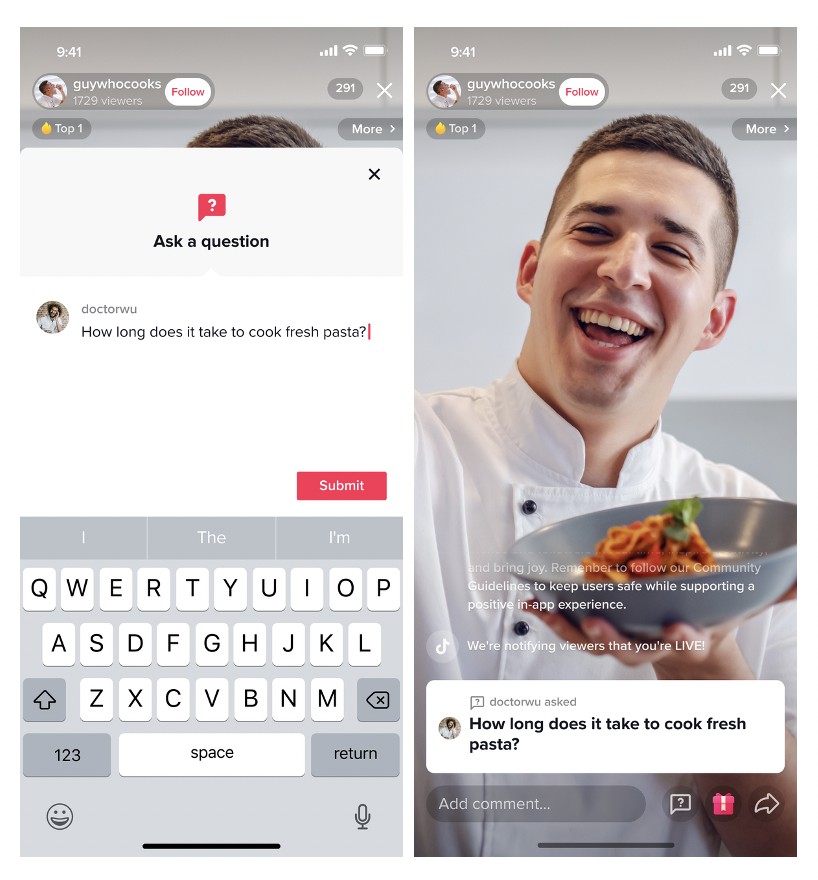 Among the recent TikTok trends is the introduction and consumption of TikTok live events.
Designed after Facebook's event pattern – TikTok creators can schedule an event, for which the account's followers will receive a notification and reminder when the live event is about to begin.
The visibility of this new feature is also boosted by other possible promotional actions.
Creators can also share the event through in-app messages or promote it with a TikTok video using a live countdown sticker.
And if you by any chance thought that would be all with TikTok's new features, think again.
Among the most recent TikTok trends, is also the co-hosting of live videos.
A good indicator that live videos are among the most popular trends on TikTok is the future expansion of this latest feature.
Co-hosted live videos were initially designed to support only one co-host, and soon after its deployment, TikTok has started to consider testing going live with multiple hosts.
3. Brands Will Experiment More with TikTok Ads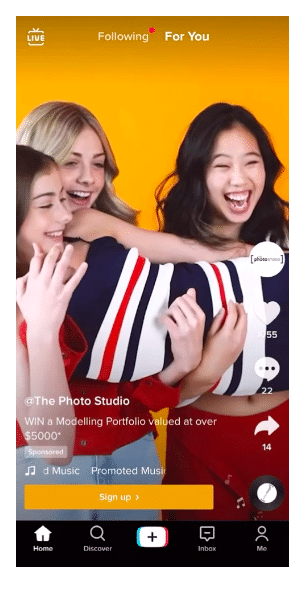 To highlight how big TikTok has become these days, we'll just state that in 2021 TikTok ranked above Google and Facebook as the most-visited domains on the internet, as the team from Cloudflare discovered.
In addition to that, according to Insider Intelligence's forecast, in 2022, TikTok is expected to become the world's third-largest social network.
So, in just a few words, TikTok has become a giant in the social media scene, having a marketing potential that's difficult to match by any other platform or PR tactic.
With its rapidly growing user base, TikTok is most helpful in reaching certain audiences like Millennials and Gen Z.
As our latest study related to Christmas marketing campaigns has shown, TikTok is preparing to steal Instagram's crown of the most engaging social media platform.
Most engaging social media platform in terms of Christmas campaigns.
Now just imagine a brand's exposure and potential to get engagement if TikTok ads step into the game.
Why Do TikTok Advertising?
I'm glad you asked.
The primary benefit of TikTok ads is that they expand your videos' reach.
And with its high engagement levels, through TikTok ads, you can get a pretty good chance to increase your website traffic and generate more leads.
How awesome is this?
By having unique formats and targeting options, TikTok ads can get active brands on social media and impressive growth.
With all this being said, is there any reason to doubt that TikTok ads are among the top trends on TikTok in 2022?
Honestly, I don't think so.
4. Authenticity is Crucial
Ok, so we've already established how many benefits brands nowadays can get from having a TikTok presence.
But despite that, if we look around, we'll see that at least for the time being – TikTok remains a platform hugely populated by creators.
And many brands seem somehow reluctant to spread their wings and create a TikTok account—especially one with an active presence.
That's because authenticity is vital on TikTok.
Video content in itself is the content type that requires more authenticity than any other.
And with the many features the platform enables to facilitate it, TikTok has raised a challenge so big no other social media platform can outrun it – that of connecting with the audiences on a different level.
As Melissa Francois – global social media manager at Zoom, told us in an interview for the Insider Insights podcast, the brand's most significant challenge for 2021 was to launch its TikTok account.
So, even if it's a more generic strategy rather than a specific tactic, authenticity surely holds a special place among top trends on TikTok.
Final Thoughts
Now that you're all caught up with the latest TikTok trends, all you have to do is start creating.
Begin this TikTok journey by first researching and testing the platform, then analyzing your competitors – are they on TikTok as well? If yes, what are they posting? Gain a competitive advantage by following popular trends on TikTok and developing creative strategies to implement them!