User-generated content may be one of your social media marketing strategy's most cost-effective and time-effective tactics. It can help you reach more followers, learn what aspects of your marketing campaign you need to improve on, drive purchasing decisions, and even build customer trust. Here's what you need to know about incorporating user-generated content on social media to gain online relevance.
What Is User Generated Content?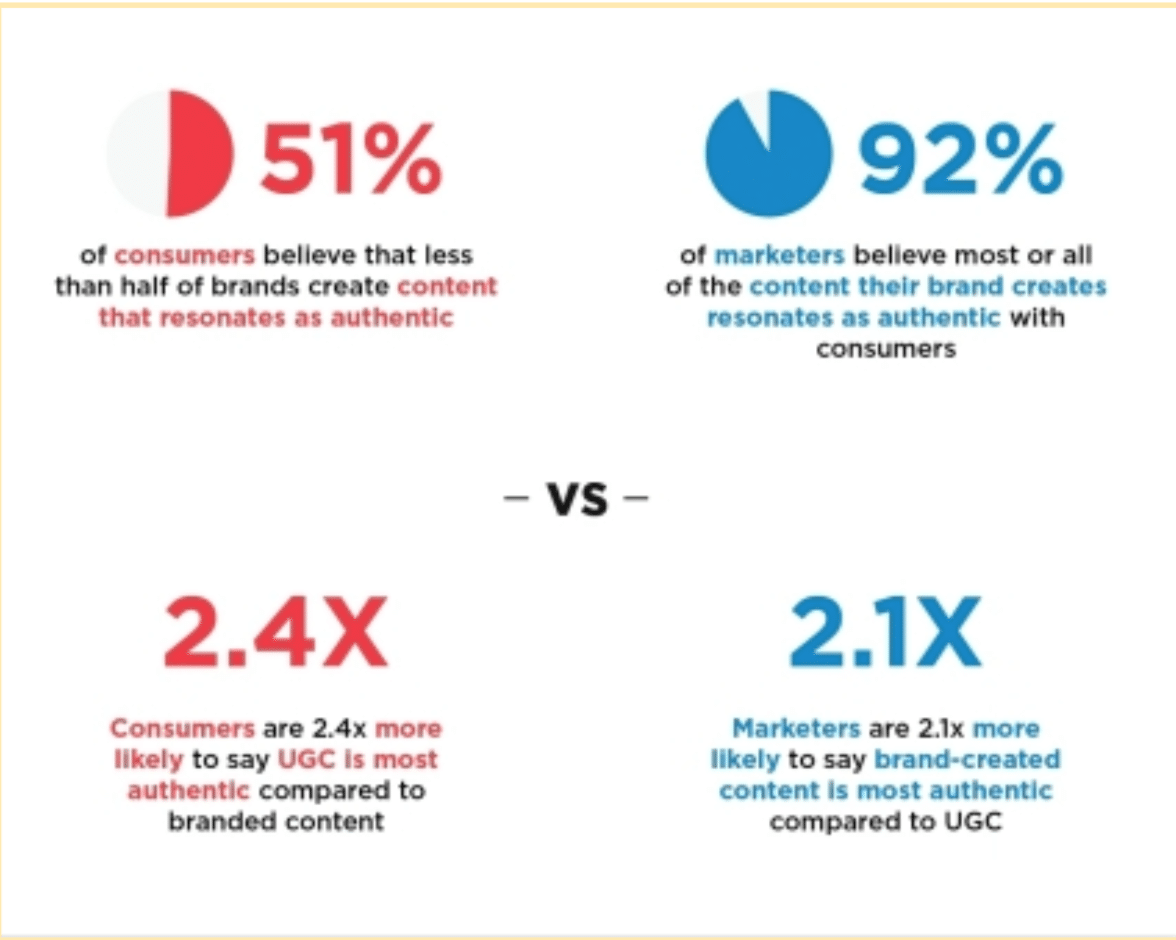 User-generated content (UGC) is online content created by users—usually social media followers or customers—to help promote your brand or business on social media. UGC can come in the form of online business reviews, location or product photos, social media videos, and more.
Where Do You Find User Generated Content?
User-generated content can be found practically anywhere online. Especially with social media search features on platforms like Facebook and Twitter, you can discover all kinds of content created by users through hashtags, location tags, and phrase searches. In addition, brands and businesses looking for UGC can request it from their followers and customers through online reviews, surveys, polls, giveaways, and more. Below are some of the most common places to find and collect user-generated content.
Surveys
Hosting social media Q&A events or sharing polls is a great way to gather user-generated content and find out what customers want to know about your business or think of your products and services. Take Nodest, for example. This home and garden store regularly blocks out time to respond to consumer questions about plant care on their Instagram page, often with a tip about how a product or service they offer can help. Then, they repurpose the Q&A by saving it to a Q&A Highlight on their Instagram profile page.
Reviews
Perhaps one of the most popular forms of user-generated content is reviews. Whether these reviews come through your Facebook Business page or through posts on social media that you discover via social listening, you can collect valuable information from customers for your business. Plus, you can use these testimonials in your social media ad campaigns, in brand videos, on your website, and more!
Photos
Photos taken of your products or at your location can help showcase your brand's authenticity and attract new customers. Encouraging people to share pictures of their experiences and tag your business essentially lets you advertise your brand for free. You can even repost other people's photos of your business and products across your social media accounts for easy content creation (Just remember to tag the content creator).
Why You Should Be Using User-Generated Content on Social Media
UGC is essentially crowd-sourcing your social media content, interactive social media posts, and ad materials, which means you can save time, money, and effort. Not to mention, user-generated content can appeal to more customers because of its authenticity and "word of mouth" function online.
Customer Trust
Consumers trust user-generated content more than content that comes directly from a brand or business. This is because it shows that someone who isn't invested in the business's success has been satisfied with a purchase they made. In fact, user-generated content is so influential that 80% of users say that they use user-generated content to inform their purchasing decisions.
Social Listening
User-generated content provides an opportunity to use social media listening to your benefit. By looking at what your followers are posting on social media about your brand, you can get a better idea of how your practices, products, or services are working with your target demographic. More importantly, if a follower or customer is getting great engagement with posts about your brand, you can connect with them to have them start producing content for your brand as part of an influencer marketing campaign on social media.
Free Content & Advertising
Perhaps one of the most convenient aspects of UGC is that it's being produced by someone else for free and shared with other like-minded people for free. It's important to have as much high-quality content as you can on social to help spread the word about your business. When users create this content for you, not only are you getting honest feedback and free press, but other users see social proof of your value, too.
Better User Engagement
An easy way to get people to interact more with your brand or business on social media is to show that you're listening to them. WeRateDogs is a great example of this. What started simply as a fun social media account that rated random photos of dogs online now receives thousands upon thousands of submissions from social media followers across Facebook, Twitter, Instagram, and other platforms. The account got more popular the more it started engaging with its followers and sharing their content.
Bigger Audience Reach
When you only post content from your brand's social media accounts, you may only be reaching your followers. With user-generated content, however, your brand's reach is essentially limitless. The more people posting about your products or services on various social platforms across the web, the more likely you are to get in front of audiences you wouldn't have connected with on your own. This means you could find new customers through user-generated content.
What Are the Disadvantages of User-Generated Content?
While user-generated content is largely beneficial, there are still some things to be aware of if you want to make UGC work for your social media strategy. Not only should you be aware of how much time you're investing into user-generated content discovery, but you should also actively work to avoid spam.
Time & Effort
While the creation of UGC itself won't impact you since it's created by your followers, you do still need time to properly monitor what people are saying about your company online and come up with a plan for how you use that content effectively. If you don't have that kind of time, user-generated content may not be any different from strategizing and creating your own social media content.
Content Variety
Finding user-generated content itself can be challenging if you don't know where to look for it online. But another challenge you could run up against is a lack of user-generated content variety. In some cases, you might find a lot of UGC look alike or covers the same information, which may not give you much to work with in terms of an ongoing social media advertising campaign to promote your business.
Content Use Permission
A good social media practice is to get permission and tag the original creator of the content you're using. However, you may occasionally reach out to an account or a follower to ask for permission to use their content and get a "No" from them—or, in some cases, they may ask for compensation. If you don't have a backup plan for rejections or a budget to work with should creators ask for a payment, then a UGC strategy might not be the best social media content plan for your brand.
Spam & Unreliable Accounts
Spam posts and accounts that talk about your business can make your brand come across as unreliable and can cause you to lose followers and customer trust. Be sure to block and report these posts and pages to try to eliminate competing non-user-generated content. You can try to drown out potential spam by posting new content frequently and using your brand hashtags to stay on top of potential search results, as well as by flagging any spam posts for review by social media platforms.
Negative Content
Whenever you ask followers or customers for feedback on social media, there's always a chance that you'll encounter negative engagement. Whether it's a bad review, a comment criticizing your services, or a post mocking your products, you'll have to anticipate some negative user-generated content in the mix.
Conclusion
Yes, user-generated content is worth using, so long as you leverage it properly. User-generated content is an effective social media marketing tool that can help you build customer trust, showcase your authenticity, facilitate engagement, drive purchasing decisions, and reach new customers in your target market.